The Vision Leadership Team
Isabel Mishkin: President
Isabel Mishkin is a junior studying Healthcare Management and Policy in SPEA and Public Health. She's diligent and focused, persistent and accountable, and very (very) invested in the good of the students. Isabel has served in student government and as President of the National Alliance on Mental Illness (NAMI) on campus since her freshman year and is committed to improving the IU community.
In her free time, Isabel enjoys facetiming her dog, Kodi, and exploring new parts of Bloomington. One vision Isabel has for IU is to graduate knowing that students have greater access to mental health resources on campus than when she was a freshman.
Matt Stein:
Vice President
Matt Stein is a hardworking, involved student that is currently seeking a major in Law and Public Policy. Upon graduation, Matt traveled abroad where he studied Arabic and Hebrew while working with at-risk youth across Jerusalem. Since being at IU, Matt has worked to advocate on behalf of IU students by, putting together a town hall discussing the limitations of the lifeline law, promoting a proposal for a kosher/halal kitchen on campus, and creating of a Diversity and Inclusion newsletter. Matt's advocacy efforts have transcended from his role of Director of Drugs and Alcohol Awareness in Culture of Care to the Chief of Diversity and Inclusion of IUSG. In his free time you can find Matt reading, The Self Aware Universe by Amit Goswami and hiking around Griffy Lake.
Taegan Myers is a sophomore from Potomac, Maryland, studying Marketing and Law, Ethics and Decision Making with a minor in Apparel Merchandising. Taegan is a part of Phi Gamma Nu, a business fraternity in Kelley School of Business, as well as the Diversity and Inclusion committee led by the chair of the Kelley Undergraduate program. Taegan believes that the vision of the students should be the main priority in every area of our decision making and would love to help make that a reality. Taegan joined Vision because she believes that this is group of people that really care about the student Vision and will strive to make a difference on this campus. One vision Taegan has for a better IU is to improve access to Kosher and Halal food on campus and increase the number of underrepresented minorities on campus.
Mackenzie Austin:
Congressional Secretary
Mackenzie Austin is a rising Junior perusing a dual degree in Policy Analysis through SPEA, and Near Eastern Languages and Cultures through HLS. Mackenzie is also completing the Certificate in Applied Research and Inquiry program, through which she intends to complete her senior thesis on a topic which assesses research questions which pertain to both of her majors.
Mackenzie is from Fishers, Indiana, and in her spare time, she enjoys walking through the hiking trails at Griffy Lake, watching Marvel movies, and language study. Among other things, Mackenzie would like to work to obtain an international flag display here at IU-Bloomington so as to symbolize, recognize, and honor the university's commitment to diversity, which is exhibited through and humbled by its international education programs, student body, and vibrant communities. Mackenzie also hopes to work to establish an Arab Culture Center here on campus in order to allow Indiana University and the IU student body to achieve greater historical, political, and cultural awareness regarding Arabs and Arab-Americans by means of educational and social programs.
Mackenzie is thrilled to be with Vision IUSG as the Congressional Secretary. She holds the belief that students and their interests are the sole purpose of serving in Student Government, at any capacity, and she is excited to continue to build and facilitate the Executive-Legislative relationship in conjunction with the to-be-elected 2019-2020 Congress.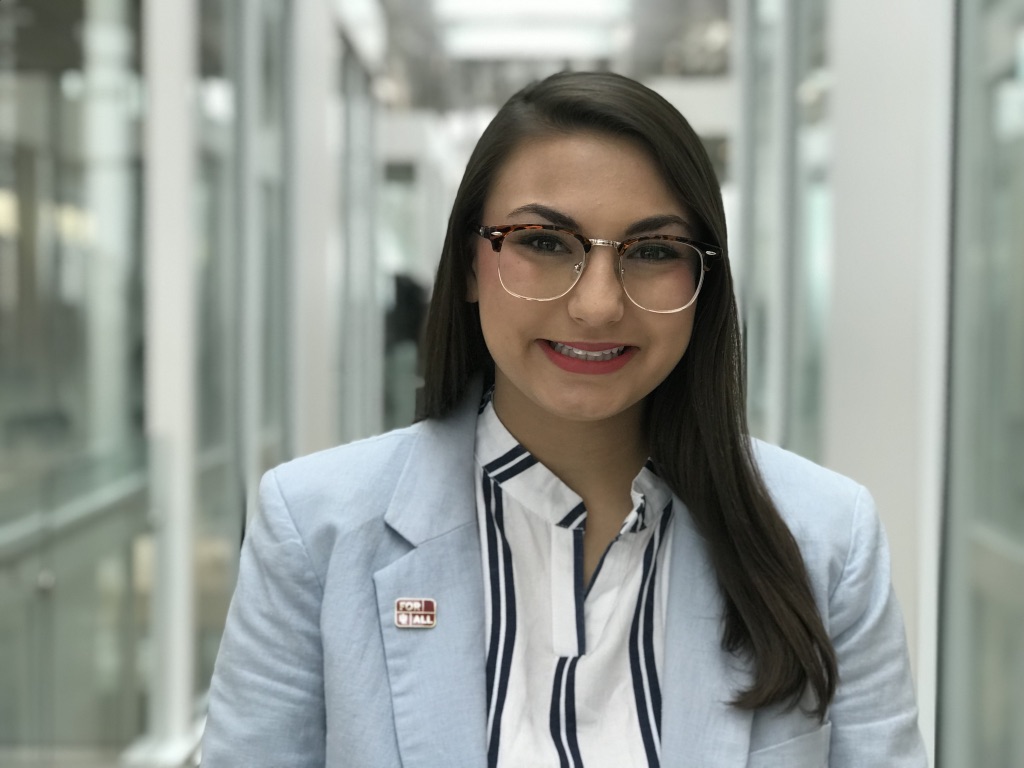 Drew Ficociello:
Campaign Manager
Drew Ficociello is a junior in SPEA studying Law and Public Policy. Having recently returned from Washington, D.C., where she participated in the Washington Leadership Program and interned at EMILY's List, Drew is ready to put her vision to action at IU. Drew is the former Vice President of Culture of Care, the Association of B1G Ten Students Liaison, a Civic Leaders Center alumna, and sister of Theta Phi Alpha sorority. She envisions an inclusive campus that creates avenues for more direct student input. Her vision is to make strides toward a more affordable campus experience.
Jacob Susina:
Communications Director
Jacob Susina is a Sophomore is in the Media School with a concentration in Advertising. Jacob is currently in charge of social media for the Executive Branch of IU Student Government. He is proud to work on the Indiana Forward campaign and is a member of PRSSA.
He lives in the Collins Living-Learning Center where he has served on the Arts Council. At WIUX, he had a radio show called "Under the Influence," which featured music that influenced rock and rap musicians, and was on the social media committee. Last summer, he had an internship with Voices of Reason, a group of 2,500 progressive voters in central Illinois, and also worked for the Illinois Shakespeare Festival. He attended Chapman University in Orange, California, for his freshman year where he was a member of Kappa Alpha Pi, a pre-law fraternity. While at Chapman, he attended the annual Democratic Party national meeting and participated in J-Street in Washington, D.C. Jacob is glad he transferred to IU where there's rain, snow, often sunshine, and Big Ten Spirit.
Jacob believes in Vision because he understands the importance of students being involved in every level of student government and that their voices must be heard. He will work hard to communicate to students how IUSG Vision advocates for students.
Amna Ahmed:
Policy Director
Amna Ahmed is from Elizabethtown, Kentucky. She is a freshman majoring in International Studies through the Hamilton Lugar School with a Certificate in Applied Research and Inquiry. Amna is a Campaign Policy Director for Vision IUSG. She was previously the IUSA Freshman Intern to the Student Body President and currently she serves as the Co-Chief of Student Affairs. Amna is also involved in the Hutton Honors Council Association, Muslim Students Association, and her sorority, Kappa Alpha Theta. She believes in Vision because she wants to see student voice and input at every level of this institution.
Becca Townsend:
Senior Policy Director
Becca Townsend is from Carmel, Indiana, and is a sophomore studying Marketing through the Kelley School of Business. She is the Senior Campaign Policy Director for Vision IUSG. Becca currently serves as the Chief of Health and Wellbeing for IUSG and enjoys mental health advocacy and working to better the IU community. Becca is involved in Vision for IUSG because she believes every student's voice deserves to be heard.
Claire Ellis:
Policy Director
Claire Ellis is a junior from Zionsville, Indiana, studying Law and Public Policy with a minor in Healthcare Management and Policy in SPEA. Claire is currently involved with the American Red Cross Student Association as its President and the Indiana Memorial Union Board Films Committee, the committee that brings films and other events to the IMU. Claire is passionate about healthcare and recently interned in Washington, D.C., with Zimmer BioMet. Claire is involved with Vision to make IU a more inclusive place for all students.
Christian Sayers:
Greek Policy Director
Christian Sayers is a junior studying Economics and Mathematics from Valparaiso, Indiana. He is the Greek Policy and Outreach Director for the Vision IUSG campaign, and he's passionate about increasing collaboration between Greek organizations and student government and developing productive and pragmatic relationships and policy between Greek Councils, IUSG, and IU Administration. At IUB, Christian served as president of his fraternity, Alpha Kappa Lambda, before stepping into this role. Christian was also was the Director of Finance and a member of the Civic Leaders Center, and serves as an adult math VITAL tutor at Monroe County Library. One (of many) Visions Christian has for IU is increasing access to large event space for IU Greek organizations and all other IU organizations with large venue needs.
Eliza Craig:
Policy Director
Eliza Craig is a sophomore from Indianapolis, majoring in African American African Diaspora Studies, Political and Civic Engagement, and minoring in Spanish. Eliza is extremely grateful for the environment of academia, ideas, and progress embodied by the students and faculty at IU as well as the opportunities here to pursue passions and do work she can be proud of. Eliza is currently working on initiatives for IUSG's Diversity and Inclusion committee and feels lucky enough to serve as a Campaign Policy Director for Vision IUSG. Outside of student government and her activism there, Eliza is the Diversity and Inclusion representative for her sorority Alpha Chi Omega, as well as the Audio Content Director for WIUX student radio. At WIUX ,Eliza is able to express her love of music; specifically, her favorite genres: east coast hip hop and neo-soul. As Audio Content Director, Eliza has the opportunity to combine her interests for music and social justice in creative audio content such as live radio shows and podcasts. Eliza also oversees the more than a dozen podcasts and podcast hosts at WIUX this semester. As a person who values both the acknowledgment of pressing social issues that prevail on campus and in our society as well as finding solutions and organizing to address them, Eliza sees Vision as a vessel to promote an greater environment of acceptance, collaboration, and, especially, unity on IU's campus.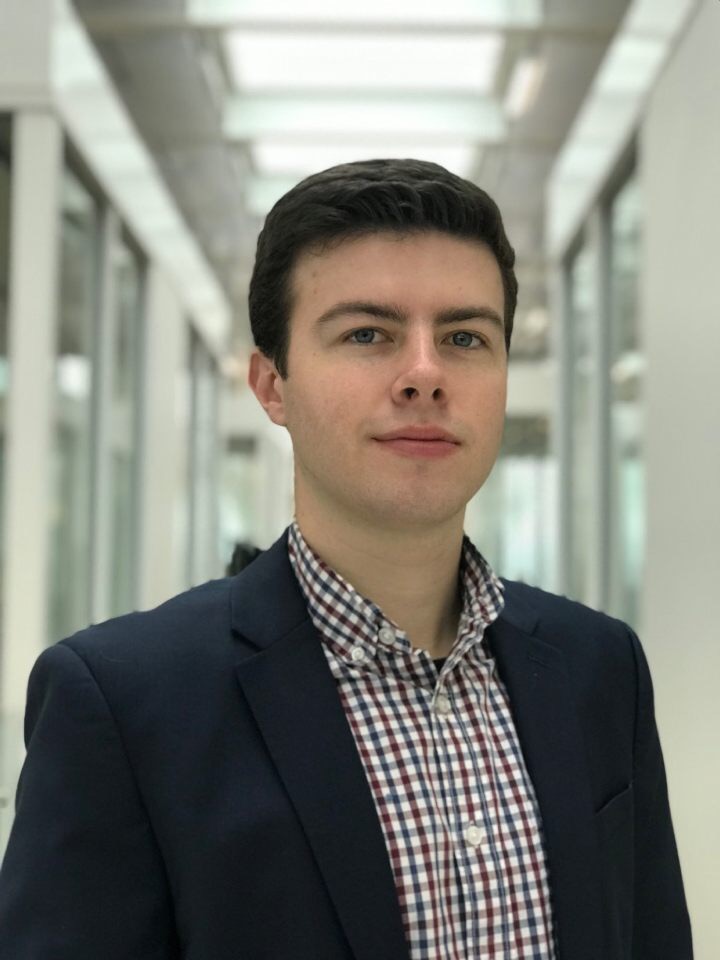 Joe Bergin:
Policy Director
Joe Bergin is a Freshman studying Law and Public Policy. Joe was born and raised in Fishers, Indiana, and currently resides in Indianapolis. Joe is a problem solver who is passionate about finding the best policy solutions for issues small or large. He believes that the most impactful change occurs when dealing with issues directly affecting those around you. It is for these reasons that Joe has dedicated the past few years towards engaging in local issues, advocating for causes he believes in, and making connections between young people and their local government. Joe is thrilled to be a part of this campaign as a Campaign Policy Director. Joe look forward to creating opportunities to bring IU to Bloomington and Bloomington to IU.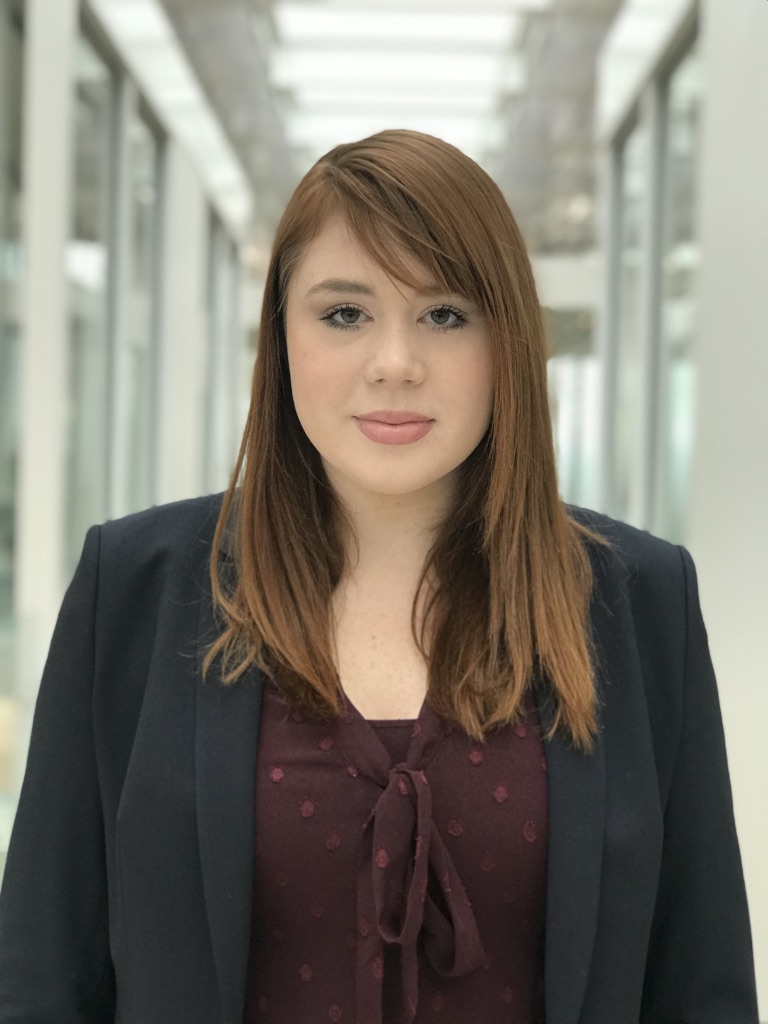 Katherine Kennelly:
Policy Director
Kathy is sophomore studying International Studies and Near Eastern Languages and Cultures. She grew up on a farm in Lowell, Indiana. Last summer, she studied contemporary global health issues and the Dutch healthcare system at the Universiteit van Amsterdam in the Netherlands. On campus, she represents IU students as a Senator in Congress and conducts undergraduate research on entertainment as means of fostering social change in Southern Africa. In addition, she teaches the Arabic language through Hamilton Lugar's "Bridges: Children, Languages, World" program. In her free time, she treasures reading, painting, and playing chess. Her passion for international languages, cultures, and politics motivates her vision for Indiana University. As Campaign Policy Director, her vision for Indiana University is to form a greater perspective and understanding of our world languages and cultures by establishing an Arab Culture Center.
Lauren
Carter-Early:
Policy Director
Lauren Carter-Early is from St. Louis, Missouri. Lauren is a Junior majoring in Law and Public Policy through SPEA with a minor in Political Science. Through SPEA's Washington Leadership Program, Lauren was able to live in Washington DC for a semester and work on capitol hill in Senator Claire McCaskill's office. Lauren's time in DC further solidified her love for government and showed her up close how policy is made and minds are changed. Lauren joined Vision for IUSG because Lauren believes in their message of making Indiana University a home for every student on campus. Lauren is excited to work toward the visions of all IU students!
Maiya Cook:
Policy Director
Maiya Cook is a freshman majoring in Finance and Law Ethics and Decision Making. Maiya is originally from Philadelphia, Pennsylvania, and schooled in its greater area. Maiya enjoys volunteering in different sectors of social issues in particular, and is an adamant advocate for youth education. Maiya is currently a Campaign Policy Director for Vision. Maiya is a member of the Diversity and Inclusion committee within IUSG, and works on creating more Kosher and Halal option for all students on campus. Maiya is also a member of the Finance Diversity Program, which strives to see more diversity in both the finance major and its careers. Outside of school, Maiya loves to cook and bake and watch cooking and baking shows on TV. Maiya appreciates attending inspirational workshops and career developing conferences. Maiya especially enjoys attending the many events that are offered on campus.
Max Sandefer:
Policy Director
Max Sandefer is a freshman studying political science and Spanish through the College of Arts and Sciences from Indianapolis. Max is a Campaign Policy Director for the Vision for IUSG campaign. Max has worked on citywide and congressional campaigns and also is a proud member of Toastmasters, a producer for the student-led American Student Radio, an activist for UndocuHoosiers, and represents his floor as a member of the Board of Governors for the Collins Living-Learning Center, among other affiliations. Max is a part of Vision for IUSG because he believes we can help foster a collaborate, inclusive campus where people of all backgrounds can feel safe, welcome, and heard. Feel free to talk to Max whenever you see him around, although we must warn you — he has blonde hair now!
Michael Hudson:
Policy Director
Michael Hudson is from Cincinnati, Ohio. Michael is a sophomore in the Kelley School of Business studying Finance, Operations Management, and International Business with a minor in Spanish. Michael is super passionate about increasing the diversity among campus, and making sure that every student feels welcomed and accepted here at IU! Last year, he also had the opportunity to serve as an IUSG Freshman Intern to the President. Michael is also involved in IUDM, the professional business fraternity Phi Gamma Nu, and in Alternative Break Program in Kelley, where he had the chance to volunteer in Ghana. Michael believes that every student on campus should have a voice in the decisions made on campus, and it is his vision to create a more welcoming and inclusive campus.
Reilly Nist:
Policy Director

Reilly Nist is a rising junior from Fishers, Indiana, and is excited to be with Vision for IUSG as the Director of Government Relations. He is studying history in the College of Arts and Sciences, earning a certificate in the Liberal Arts Management Program, and is also involved in the History Undergraduate Student Association. Reilly can usually be found reading or playing board games if he is not doing homework or student government work. Reilly and the Government Relations committee are so excited to get started on realizing the students' vision of a better IU through better representation in the local, state, and federal government.